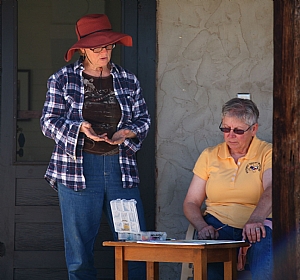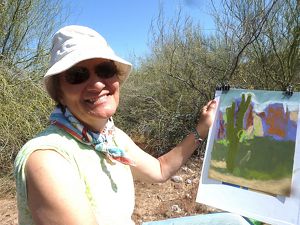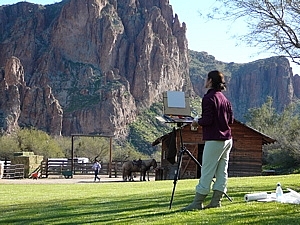 Join national award-winning landscape artist Susan Pitcairn at a charming desert guest ranch near Phoenix next March for a two day pastel workshop, friendship, great meals, great weather and a unique opportunity to discover or further your plein air skills.
All media are welcome: pastels, oils or acrylics.
Saguaro Lake Ranch
is a hidden treasure in the style of old Arizona. It's tucked in a gorgeous valley on the Salt River at the feet of the
rugged Bulldog Mountains. Artists find a wealth of subject matter, including the river, huge saguaro cacti, wildflowers, rustic architecture, horses and cowboys.
The friendly family-run ranch is also a perfect place to relax, with miles of hiking, trail rides, a charming lodge and swimming pool, plus a show of wildflowers in the lush Sonoran desert surrounding the resort. Trails ascend to vast panoramic views of Saguaro Lake and distant mountain ranges, while ancient saguaro cacti and the golden Bulldog Mountains tower nearby. Relax with other ranch guests (including a meeting of veterinarians) under starry skies around evening campfires in an atmosphere of true Western hospitality.
Susan has taught art workshops at Saguaro Lake Ranch annually since 2008
.
"Thanks so much for the workshop Susan, it was great to spend the time learning and watching you work. Count me in for the workshop again next year, and I"ll try to keep my pastels in action until then." – Todd C.
"Thank you so much for your inspiring class at the Ranch! It was really a lovely time, with such nice people in a beautiful setting. You are such a generous teacher. I feel privileged to have had last week's experience."

– Melinda H.
Schedule: 9-4:30 Friday March
REGISTER NOW- LIMITED TO EIGHT PARTICIPANTS
MEDIA, SUPPLIES AND EQUIPMENT:

You are welcome to work in pastels, acrylics or oils and guidance is offered in all. Thinner, rags, etc. are provided to everyone free of charge (since you can't bring in on planes). I also have six lightweight aluminum easels available, which can support a 12x16 sealable palette box.
Pastels: Click here for my recommendations for a lightweight setup for plein air pastels.
Or for $30 more I will also provide pastels and paper if you are new to this medium and want to try it.
SCHEDULE:
9 am to 4:30 pm both days, with lunch break. Depending on weather we will likely begin with a still life in the studio, incuding a lecture and demo on principles and techniques, after that working outdoors. It is nearly always lovely weather (70 to 80 degrees F) but it's possible it could rain, which just means we will work indoors, still fun.
LODGING. Before, during and after the art workshop there is also a meeting of 30-40 veterinarians, convened by my husband at the ranch. We give priority (best rooms) to them since they are there longer. Because of that, we can only reserve three double occupancy or two triple/quad occupancy rooms for the art group. (Thus it's unlikely you will be able to get a single room or bring family.)
The double occupancy rate will be about $175 for 1 night's lodging and four delicious meals, with the triple rate less. I will give you further instructions on room registration after you register for the art workshop.
You are also welcome to stay offsite. If so, please join us for lunches at the ranch ($40 for both days).
HOW TO GET TO SAGUARO LAKE RANCH:
From Phoenix airport

take 202 east to Powerline Road, turn onto Bush Hwy heading northeast. Turn right into ranch): about 45-50 min.

From the north

(about 3 hours from Sedona), take 17 south to 101 east, left on Shea Blvd. all the way past Fountain Hills. Left onto 87 north. In about 10+ miles, turn right on Bush Hwy. In about 4-5 miles, left into Saguaro Lake Ranch, one turn past the marina turnoff. You can also come from Northern Arizona via Payson (87).
We will meet the first day at 9 am at the studio/conference room north of the main ranch building (ask).
REGISTRATION: This workshop is limited to 8 artists, first come, first served, so please register now. This will assure plenty of individual attention.
To register, send a $125 check by February 15th, 2014 with the following info:
-
your name, address, phone and email.
- any special food needs (e.g. vegetarian, gluten free)
- if you want lodging or will stay offsite
- if you will be wanting pastels.
Mail to:
Questions?
Email
or call me at 928.203.1095.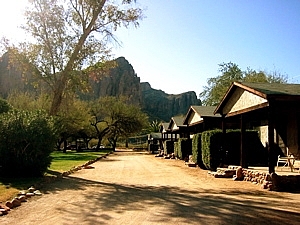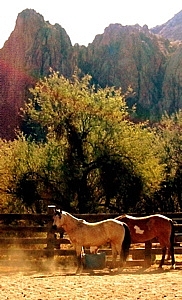 ---