Art, Poetry and Essays to Honor Life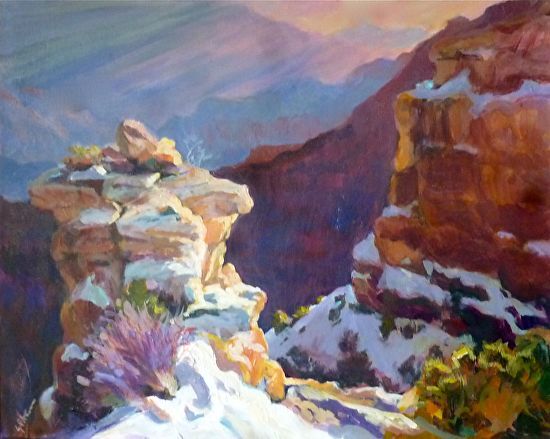 "Peaceful Surrender,"20 x 30 Oil, Susan Pitcairn
$1600
"It is from a great mystery that we all arise, surely inseparable from the spirit of the Earth, the spirit of all life. Ultimately, That is what writes the poems, paints the pictures, grows the food, tells the stories, heals the sick, raises the young, builds the houses, runs society and dives into the ocean on a summer day.
It is infinitely greater than, yet inseparable from, each of us."
– Susan Pitcairn ( "Spirit of the Earth")
__________________
Susan Hubble Pitcairn is an award-winning Southwest poet and painter of nature whose works evoke a sense of the timeless spirit of all life, in all its manifest qualities. Her paintings and books are in many collections around the US and abroad. She lives in Sedona and she shows at Gallery 527 (Jerome, Arizona) and at the Sedona Arts Center, where she teaches and is a regular invitational participant in the prestigious Sedona Plein Air Festival.
"Spirit of the Earth," is her 185-page full color gift book of paintings and poetry dedicated to the mystery within life and within each of us. Many have been finding it a source of inspiration, reading it aloud with a loved one or keeping it by their bedstand. A lovely gift, available for the holidays at just $20 with free shipping.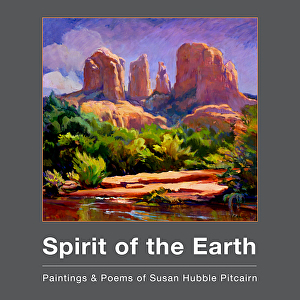 NEW: I'm on You Tube and am uploading poetry readings with music and slides, from the book!
http://www.youtube.com/watch?v=eWMbQZP_Pns&feature=share
"Congratulations on the publication of your book. What a stunning and monumental work! I most admired the pictures of places around Sedona that I recognize, the cloudscapes (with the road going into the distance), and the trees ! The tree paintings are my favorites of all."

— Marcia Burtt (nationally known acrylic plein air painter)
---
APPRECIATIONS:
"Your work is stunning, lively, observant, and marvelously colorful.

I love the pallette from which you work." _ Judith P., Illinois

"Still River Light" (9x12 pastel)
"I often take time to enjoy the Susan Pitcairn painting I purchased. The lovely flowing undulations of stream, light and stream-side vegetation capture much of what I love best about rivers. A river has always flowed through my life, and I often take great comfort in its beauty as I now experience the grief of losing husband, father and mother, all within the past two years. And so this painting is quite special to me."

"Of Heaven and Earth," 30 x 36 oil

"We appreciate having your beautiful picture

more than I can express in words.

It really touches me every time I walk into my house."

_ Shelley A., Arizona
---
Click
here
to download
"Awaken to Beauty,"
a 30-page essay by Susan on three principles that deepen our understanding of all the principles and techniques used in art. Susan writes eloquently about how these principles are the same as fundamental principles of physics, biology and the very nature of life itself.
---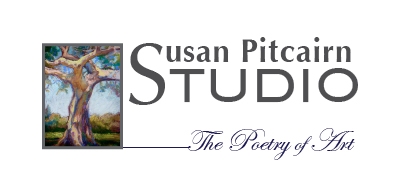 (928) 203-1095 • 1865 Gun Fury Road • Sedona, Arizona 86336
Please contact Susan directly if you are interested in any of my works or events.